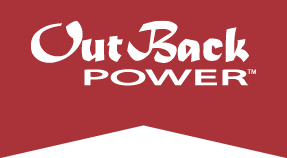 Pre-Bundled Solutions
Experience Single-Brand Simplicity with SystemEdge Packages.
Integrated Systems
pre-assembled and pre-wired power systems, featuring the FXR / VFXR and Radian Series inverter/chargers.
True Hybrid Energy System
Breakthrough, single-box design, advanced power conversion, processing, and control.
Inverter / Chargers
OutBack Power inverter/chargers have a reputation of delivering superior product performance for remote off-grid power systems. With the recent introduction of the Radian Series Inverter/Charger, OutBack now offers an ideal solution for advanced Grid/Hybrid applications and full flexibility for grid-interactive and off-grid installations.
Charge Controllers
Innovative solar harvesting and battery charging algorithms allow customers to maximize system potential and increase renewable energy yield by up to 30 percent.
Energy Storage
As the demand for renewable energy increases, the needs of system integrators and installers are rapidly evolving as well. OutBack is responding by engineering its extensive line of balance-of-system components into pre-assembled systems to give installers the best of both worlds: OutBack quality in a more easily specified and installed package.
Go Back
WHAT ARE PEOPLE SAYING . . .
Visit Our Sister Site