MONOCRYSTALLINE Q.ANTUM DUO TECHNOLOGY
The new Q.PEAK DUO-G5 solar module from Q CELLS impresses thanks to innovative Q.ANTUM DUO Technology, which enables particularly high performance on a small surface area. Q.ANTUMs world-record cell concept has now been combined with state-of-the-art circuitry, half cells and a six-busbar design, achieving outstanding performance under real conditions both with low-intensity solar radiation and on hot, clear summer days.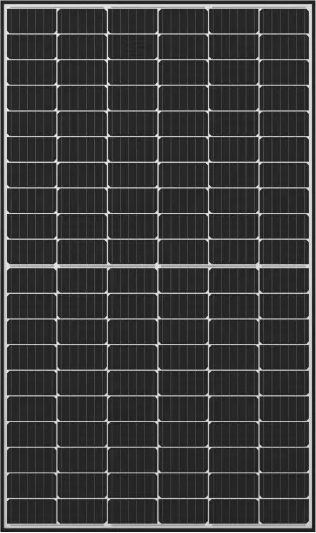 Q.PEAK DUO-G5 315-330
Q.ANTUM DUO TECHNOLOGY
Nominal Power: 315 - 330 Wp
Maximum System Voltage: 1000 V
Format: 1685mm x 1000mm x 32mm
Efficiency: Up to 19.9 %
Wind/Snow Load: 4000 / 5400
Weight: 18.7 kg
Warranty:
At least 98% of nominal power during first year. Thereafter max. 0.54% degradation per year
At least 93.1 % of nominal power up to 10 years. At least 85% of nominal power up to 25 years.
STATE OF THE
ART MODULE TECHNOLOGY
Q.ANTUM DUO combines cutting edge cell separation and innovative wiring with Q.ANTUM Technology.
Q.ANTUM TECHNOLOGY :
SHORTEST INVESTMENT PAYBACK-TIME
Higher yield per surface area, lower BOS costs, higher power classes, and an efficiency of up to 19.9 %
INNOVATIVE ALL-WEATHER TECHNOLOGY
Optimal yields, whatever the weather with excellent low-light and temperature behavior.
ENDURING HIGH PERFORMANCE
Long-term yield security with Anti LID and Anti PID Technology, Hot-Spot Protect and Traceable Quality Tra.Q
EXTREME
WEATHER RATING
High-tech aluminum alloy frame, certified for high snow (5400 Pa) and wind loads (4000 Pa) regarding IEC.
A RELIABLE
INVESTMENT
Inclusive 12-year product warranty and best in class 25-year performance guarantee.
WHAT ARE PEOPLE SAYING . . .
WE OFFER TAILORED SOLAR SOLUTIONS
GET A PERSONAL CONSULTATION